Printer configurations
Note:
Make sure to configure the printer on a flat, sturdy, and stable surface.
Basic model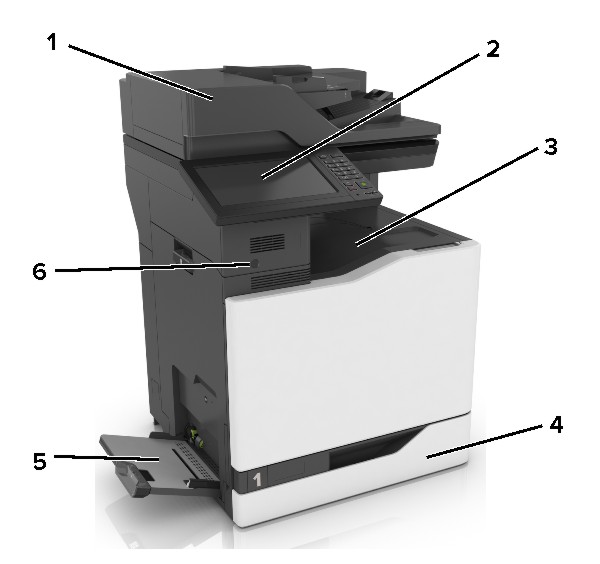 1

Automatic document feeder (ADF)

2

Control panel

3

Standard bin

4

Standard 550-sheet tray

5

Multipurpose feeder

6

Proximity sensor

Note: This feature is available only in some printer units.
Configured model

CAUTION—TIPPING HAZARD:
Installing one or more options on your printer or MFP may require a caster base, furniture, or other feature to prevent instability causing possible injury. For more information on supported configurations, see
www.lexmark.com/multifunctionprinters
.
You can configure your printer by adding an optional 2200-sheet tray or a combination of up to three optional 550-sheet trays or envelope trays.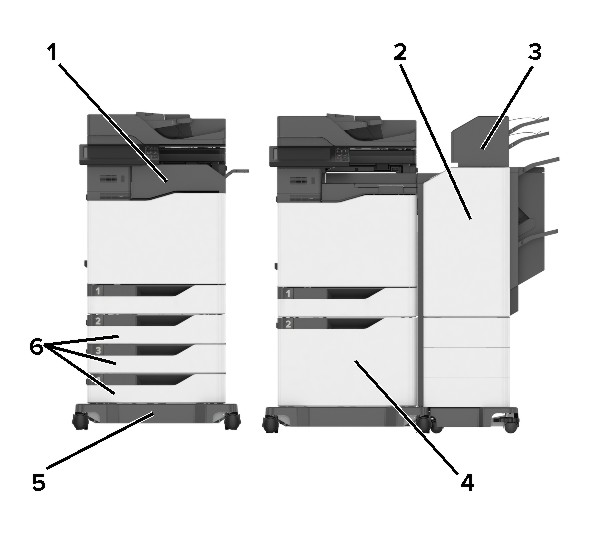 1

Staple finisher

Note: This option is not supported if another finisher is installed.

2

Multiposition staple, hole punch finisher

Note: This option is not supported if another finisher is installed.

3

Mailbox

4

Optional 2200-sheet tray

5

Caster base

6

Optional 550-sheet trays or envelope trays